Our customer service team is ranked among the best in the industry.
Serving a market built over the past 25+ years of more than 500,000 satisfied customers.
You can reach them by phone Monday thru Thursday from 9 am through 4:30 pm MST.
Please read our Shipping Instructions prior to shipping your firearms to NAA to ensure that your order is handled quickly and accurately.
North American Arms produces firearms of the highest quality and backs them up with a no-hassle Lifetime Warranty.  If you have questions or a problem with your NAA firearm, please contact us.  Please read the Shipping Information Section (linked above or below) before sending your firearm into NAA.
Here are some General references that may answer questions you have about NAA Products:
Technical Support
North American Arms produces firearms of the highest quality and backs them up with a no-hassle Lifetime Warranty on our firearms. Please register your firearms above. If you have questions or a problem with your NAA firearm, please contact us. Please read the shipping information section below before sending your firearm into NAA.
One of the best sources of information is from other customers. Our Message Board provides a forum for you to give and receive advice, recommendations, and more.
NAA's Lifetime Warranty is one of the best, if not the best, warranty in the firearms industry today. In order to serve you better, we've created some guidelines and instructions to make the process of getting replacement parts as quick and easy as possible. If possible, send us the gun for repair. Shipping instructions are on our web site's shipping information section below. This allows us to replace all worn or damaged parts, make minor adjustments as needed, and to test the gun prior to sending it back to you. If you're returning accessories or if you don't want to send the gun to us due to your location, time, or other factors, please follow these steps:
For Accessories, like grips and holsters, send us the damaged or defective item(s) via U.S. Mail, UPS or FedEx within 90 days. (NAA only offers a 90 day warranty on accessories.)
Mail or ship the damaged part(s) to us with a letter or note that contains the following information:
Part number(s) that you need
Serial number from the firearm
Your mailing address
Your daytime phone number
If returning the accessory for a refund or exchange and there is nothing wrong with the accessory, we will charge a 10% re-stocking fee.
If you need a gun part, get the part number for the part that you need replaced. Some of the smaller parts are similar between guns, so this will help us get you the right part.  To find part numbers, consult the Parts Lists & Exploded Parts Diagrams section below. Gun's that are sent to us disassembled will be charged the reassembly fee as well as the missing parts that need to be replaced. We recommend not disassembling your firearm before sending it in.
Here is the address to send the damaged or defective part(s) to:
NAA Parts Dept
2150 South 950 East
Provo, UT 84606
After receiving the replacement part(s), please contact us if you have any questions about installation. In most cases, you should receive your part(s) within 5 – 7 business days depending on your local mail delivery.
Due to liability reasons, we don't send some parts that require skilled installation or special equipment. The Exploded Diagrams and Parts Pages below list these parts.
Mini-Revolvers
Guardians
Misc. information concerning Testing of our firearms:
Privacy Statement: North American Arms does not share, sell or reveal customer information. This information is for our records only. Your e-mail address, street address, telephone number and purchase information will be kept confidential.
We will repair, free of charge, any firearm manufactured by North American Arms. The terms, conditions and limitations of this unique lifetime repair policy will be contained on the card accompanying each firearm.
Excluded from this policy are the following: Unauthorized Service, Alterations or Abuse; which nullify this policy.
The firearm must not be disassembled and should be returned prepaid to the factory. North American Arms does not cover return shipping on firearms manufactured more than two years ago.
Please answer all required questions.
By clicking on "enroll" I am aware that I must have received training in safe handling and use of this firearm, read the manual, instructions and warnings accompanying this firearm and that any firearm can cause serious injury or fatality if misused, mishandled or used carelessly.
"*" indicates required fields
North American Arms is pleased to publish the results of a series of comprehensive and expensive tests conducted primarily by H.P. White Laboratory of Street, MD. These results suggest to us that NAA products meet or exceed all of the testing criteria commonly identified in the various states' regulations.
H.P.White Laboratory, Inc. conducted the tests, and is acknowledged as the leading privately owned laboratory engaged in small arms and ammunition research, development and testing.  See below for further details.
Results of independent testing performed on a NAA .22 Magnum Mini-Revolver and Guardian Pistols can be found here.
(The NAA .22 Magnum used is mechanically identical to all of our Mini-Revolvers).
May, 2004 – PRODUCT PERFORMANCE ADVISORY BULLETIN (PMC Ammo)
This Product Performance Advisory Bulletin is issued for the benefit of NAA's customers, owners and users of its .22 caliber revolvers. NAA has recently learned that the use of PMC .22 caliber ammunition (Magnum and LR) may affect the performance of its revolvers. Specifically, NAA has become aware of a phenomenon where an inadvertent, double-discharge (two rounds simultaneously discharging, one aligned with the barrel and the other out of battery) may occur when PMC Brand ammunition is used in NAA .22 caliber revolvers. These double discharge occurrences have been investigated by NAA and, based on the results of our investigation to date, it appears that the inadvertent, double-discharge has only occurred with PMC Brand .22 caliber ammunition*, both in magnum and long rifle. However, NAA has not learned of any confirmed double-discharge occurrences involving any other brand of manufacturer's ammunition.
At this time, NAA recommends that its customers, owners and users of NAA .22 revolvers DO NOT USE ANY PMC .22 CALIBER ammunition (Magnum and/or LR) in any model of NAA revolvers. As with all of its firearms, NAA encourages its customers to exercise the utmost caution and care when using its products, including always wearing appropriate eye and ear protection and following all of the Basic Rules of Firearms Safety.  NAA takes tremendous pride in its finely crafted products. Its products have been certified by independent testing laboratories to meet or exceed every published firearms standard for safety, performance and reliability. All of NAA's products are warranted for a lifetime and its customer service and technical teams are ranked among the best in the industry, serving its more than 500,000 customers over the past thirty years.  NAA appreciates that, among other things, its products are purchased and used as back-up weapons for law enforcement and for personal protection. As such, NAA recognizes that its customers should be supplied with any information that may affect the safety, performance and reliability of its products.
If you have any questions concerning this Product Performance Advisory Bulletin, please contact us at (800) 821-5783 or write us at North American Arms, 2150 South 950 East, Provo, Utah 84606-6285, Attention General Manager.
*This advisory is being extended to additional brands of ammunition which may be made under subcontract to PMC.  These include certain models of ARMSCOR & FIOCCHI products.  If the box identifies the contents as "Made in the Phillipines", we recommend against using the product in NAA mini-revolvers.
---
Ongoing – SAFETY CYLINDER
See Safety Cylinder Information section below.
North American Arms offers a .22 Conversion Cylinder for our .22 Magnum Mini-Revolvers.  
The Conversion Cylinder is a special longer .22 Long Rifle cylinder that will fit in your .22 Magnum Mini-Revolver.  
If you already own one of our .22 Magnum Mini-Revolvers, you may order the Conversion Cylinder but your Firearm must be returned to the NAA Factory for timing.  The technicians will generally have your firearm from one to two weeks.  While the cylinders are being timed,  they will replace any other part(s) that they feel requires replacement for the maximum performance of your firearm.
You can find shipping information by visiting our Shipping Information Section below.
FOR LIABILITY REASONS NAA CAN ONLY SELL EXTRA OR CONVERSION CYLINDERS BY CUSTOMERS FOLLOWING THE INSTRUCTIONS BELOW: 
The customer must send his/her Firearm in to NAA for the fitting of the new cylinder.
They need to write a detailed letter telling us what type of cylinder they would like. Be it an extra cylinder of the same type they have, or a conversion cylinder.
They need to include all their information in the letter: Name, Return Address, Phone Number, Payment information, etc.
Conversion cylinders only apply to the Magnum Frames, which include the following:
MAGNUMS
MS
MINI-MASTER
BLACK WIDOW
PUG
EARL
SIDEWINDER
RANGER
Notice–Quantity restrictions for the state of California.
Pending California legislations, North American Arms is limiting the sales of conversion cylinders to 1 per firearm.
If you have other questions call:
1-800-821-5783 – Toll free in the United States
1-801-374-9990 – International or Local Calls
Customer Service
NAA's Policy on Guns Returned to the Factory
Dear NAA Customers:
NAA has a lifetime warranty on all NAA Mini-Revolvers and Guardian Pistols. We stand behind our products and will repair your firearm to like-new condition. We will replace any parts that fail during normal operations for the life of your gun. The warranty does state that you (or your dealer) are responsible for paying the return shipping to NAA.
We do ask that you pay the return shipping and handling. It is legal for you to return your firearm to the manufacture overnight via common carriers. However, NAA strongly recommends that you have your local firearms dealer send the firearm to us.
Please refer to the chart below for the return shipping and handling charges. (This amount is what you would need to send to NAA for us to ship the firearm back to you and/or a dealer.)
 RETURN SHIPPING COSTS 
Individuals
2nd Day Air (Signature Required)
$50.00
FFL Dealer
Priority Mail (Signature Required)
$25.00
If the gun has been disassembled and needs to be reassembled, there will be a $75.00 fee.
By disassembled, we mean that the side plate has been removed and/or internal components (trigger, hammer, etc.) have been removed.
We will replace any defective parts or parts that break during normal operation of the firearm at no cost to you. Parts that are missing or are damaged through neglect (for example, you run over your gun with a car and break the grips) you will be charged for.
What returns are subject to the shipping fee?
Return shipping is charged on all firearms sent to the factory for upgrades and repairs, except the following:
Firearms returned for repair (not upgrades) that were manufactured within the last two years. In most cases, if you purchased your firearm new from a dealer within the last year, your firearm will fall into this category. If not, we will notify you. You may call or email the serial number to us and we can check the manufacture date for you.
If you returned the firearm less than two months prior for warranty work and are returning it because of functional problems or Custom Shop problems, the fee will be waived.
Our goal is to provide you with high quality, reliable firearms. If you have comments, questions, or concerns, please contact us via phone at 1-800-821-5783, by mail or by Email.
To make sure we know who the gun belongs to and what you want done, we have a Customer Information Form that we ask you to print and fill out. Send the form in the package with your firearm. The form requires Adobe Acrobat or Adobe Reader. If you need a hard copy faxed to you, please call us.
Please ship firearms to:
NAA
Attn: Repairs
2150 S. 950 E.
Provo, UT 84606
Make sure the firearm is unloaded before packing!
Be sure to send in the complete firearm-this includes cylinders.

Remove all custom accessories prior to packaging the firearm.

Keep a record of your serial number prior to packaging your firearm for shipping.

Do not ship firearms inside hard cases.

Please do NOT ship your firearm back in the metal cases that firearms are now shipping in (as of Jan 1, 2015). If you ship it in the metal case you will be subject to an additional $6 towrds shipping.

Retain your tracking information from the shipper.

Any firearms that have been modified outside of factory specifications or disassembled may be subject to additional fees.

DEALERS-Please include a copy of your FFL.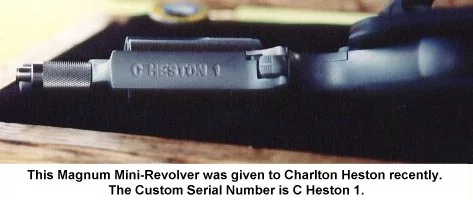 NOTE: Depending on the scope of custom work chosen, NAA offers certain discounts. For complete pricing, please select your custom options, then call NAA @ 1-800-821-5783 ext. 212.
NAA is pleased to offer firearm collectors our Mini-Revolvers and Guardian pistols with custom serial numbers. Customize your gun with your name, badge number, call sign or nickname as a serial number. All serial numbers must contain at least one alpha character and one number. Special characters, such as asterisks, dollar signs and pound signs, cannot be used.
Guardian serial numbers are allowed up to 10 (upper-case only) alpha-numeric characters.
Mini-Revolvers do not have a prefix and can be any combination of up to 8 alpha-numeric characters; with the exception of the .22 Short, which will only accommodate 5 characters. As with the Guardians, the Mini-Revolver serial numbers must be a combination of both letters and numbers.
To order a gun with a custom serial number, please have your FFL Firearms Dealer contact us at 1-800-821-5783 and ask for Jessica. The cost is $175.00 for custom serial numbers on Guardian pistols and $150 for Mini-Revolvers. This is in addition to the retail price of the gun and shipping costs. Payment should come from the FFL Firearms Dealer, not directly from the customer. We will begin manufacturing after receiving payment.
The average delivery time for firearms with custom serial numbers is about 6-8 weeks.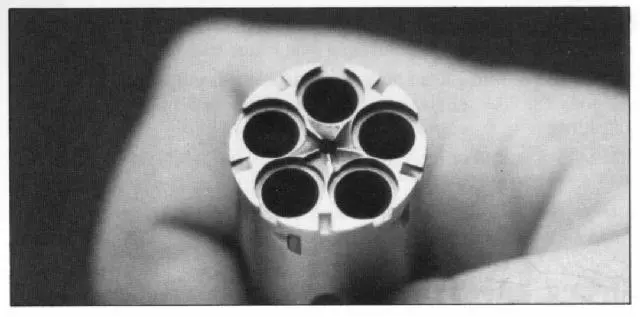 North American Arms Mini-Revolvers are equipped with a unique safety cylinder, giving you maximum protection against accidental discharge.
The North American Arms Safety Cylinder feature allows the gun to be carried fully loaded.
There are halfway notches located between the chambers. The hammer is lowered into one of these notches after the gun is loaded. When the hammer is pulled back to the firing position the cylinder rotates to the next chamber.
NOTE: The traditional half-cock position is to be used for loading and unloading only. THE HAMMER SHOULD NEVER REST IN THE HALF-COCK POSITION OVER A LIVE CARTRIDGE, OR ON THE RIM OF A LIVE CARTRIDGE.
If you have an older model NAA Mini-Revolver, or know someone who does, please check to see if it is equipped with the NAA Safety Cylinder – if not please call at 800-821-5783 to find out how to update the gun to the new cylinder.
NAA Mini-Revolvers come with a Lifetime Warranty. If anything should ever go wrong with your Mini-Revolver, please call Customer Support to find out how to send the gun to us for repair.
---
Note: The following instructions are from our FAQ – 22 Caliber Mini-Revolvers.
The Safety Cylinder is a critical part of the gun. We recommend that you practice the following steps to become proficient at using the Safety Cylinder before loading the gun.
First: Make sure the gun is unloaded.
Second: Make sure the gun is unloaded!
Third: Retract the hammer to the point that the cylinder spins freely (about half-way) and keep it retracted.
Fourth: Looking through the top/rear of the frame, locate any of the five milled safety slots (those notches on the cylinder between the chambers), and position any slot directly beneath the blade of the hammer (which is still retracted).
Fifth: While still retracting the hammer, depress the trigger (and keep it depressed)
now allow the hammer to settle into the slot.
You can (should) confirm engagement of the hammer in the slot by attempting to rotate the cylinder; if it does rotate, the hammer was not engaged in the slot (repeat the process). Visually confirm, also, by examining the alignment of any chamber with the bore; if a bullet could physically pass from the chamber through the bore, the gun is not 'safe'. In other words, if a chamber is located at 12 o'clock, the gun is not 'safe'; in the 'safe' condition, the upper two chambers are at one and eleven o'clock. 99.9% of the failures are because the trigger was not kept fully depressed while the hammer was being lowered (Step 5). Once you get the hang of it, however, you'll find the process becomes surprisingly easy, quick and natural.